Benefits for a better you
Whether you want to gain expertise in your field, create a more comfortable work-from-home environment, or have funds to subsidize your commute, as of January 1, 2023, Klaviyo has partnered with Forma to provide flexible benefit support that you can use toward a variety of perks that make sense for your lifestyle. Take time to read the FAQs and policy documents for each of these plans. They can be found in the Forma platform.
The following benefits have transitioned to the Forma platform as of January 1, 2023.
Who is eligible?
You must be actively employed by Klaviyo when you incur eligible expenses in the reimbursement programs.
Learn more about these perks below.
Always learning? Reimburse it.
Klaviyos are always learning—and always trying to become better teammates, managers, subject-matter experts, and all-around humans. We want to reward you for that!
Learning for your lifestyle
Klaviyo reimburses you up to $3,000 annually for learning expenses: building skills that will make you successful in your current role or in future roles at Klaviyo. We are happy to announce that you can use this benefit for personal learning as well. This benefit perk will be reimbursed through Forma.
Klaviyo Books Program
Our always-learning value extends beyond the typical workday. Whether you're relaxing with a novel, reading about technology, or learning more about social justice, you can be reimbursed for the books you buy. If you're better off for having read it or listened to it, we'll pay for it. This benefit perk will be reimbursed through Forma.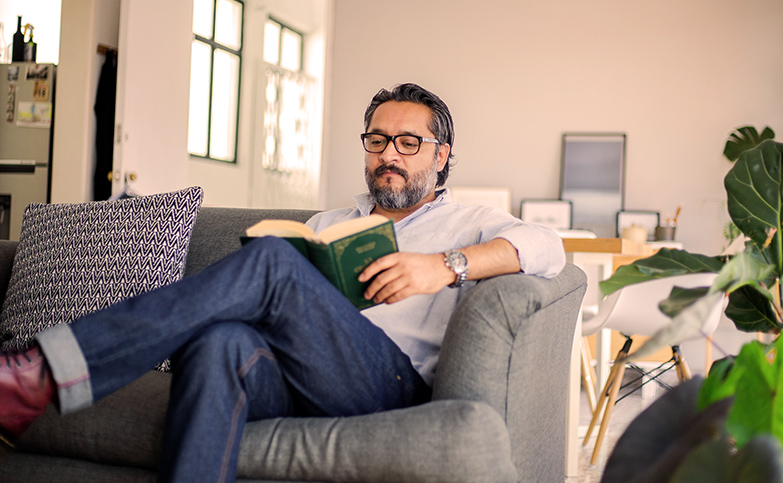 Work your way. Own it.
Working remotely? Klaviyo wants to make sure you have what you need to be successful.
Monthly stipend
You're eligible for a stipend of $65/month deposited directly into your paycheck. Use it to cover costs associated with working remotely, including cell phone, home internet, and utilities. (All Klaviyos are considered remote based, including those required to be in the office from time to time, until the Boston office officially reopens.) California and Illinois residents can submit remote-work-related costs that are in excess of the monthly $65 stipend for reimbursement through Forma.
Work-from-home office equipment reimbursement
New Klaviyos that work from home are reimbursed up to $1,000 within the first 6 months of employment for the tools and equipment (e.g., monitors and a computer mouse) they need to be effective while working remotely. Discuss your needs with your manager before purchasing supplies. This benefit perk will be reimbursed through Forma.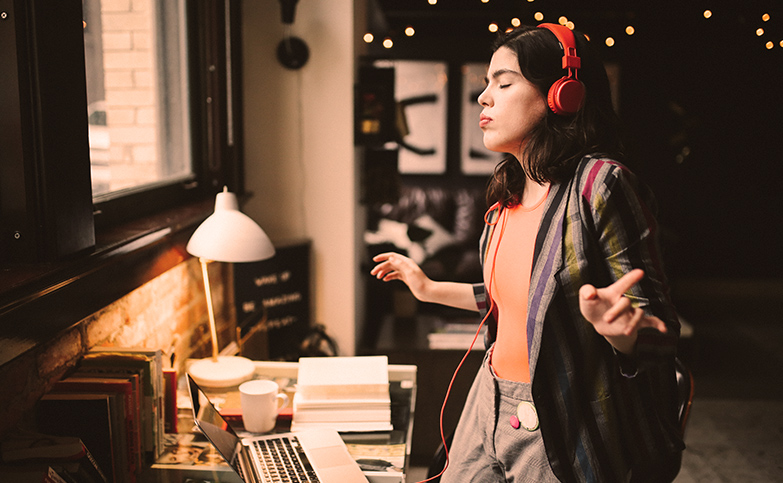 At the office
Commuter benefits through WageWorks help all HUB-designated Klaviyos pay for the expenses associated with going back and forth to work. You can contribute pretax dollars to your commuter account to pay for commuting or parking expenses.
For 2023, the monthly limit on the amount that may be excluded from an employee's income for qualified parking benefits is $300 (up from $280). The combined monthly limit for transit passes and vanpooling expenses for 2023 is $300 (up from $280).
Klaviyo also contributes $90/month if you enroll.
Note: Only HUB-designated Klaviyos are eligible for this benefit.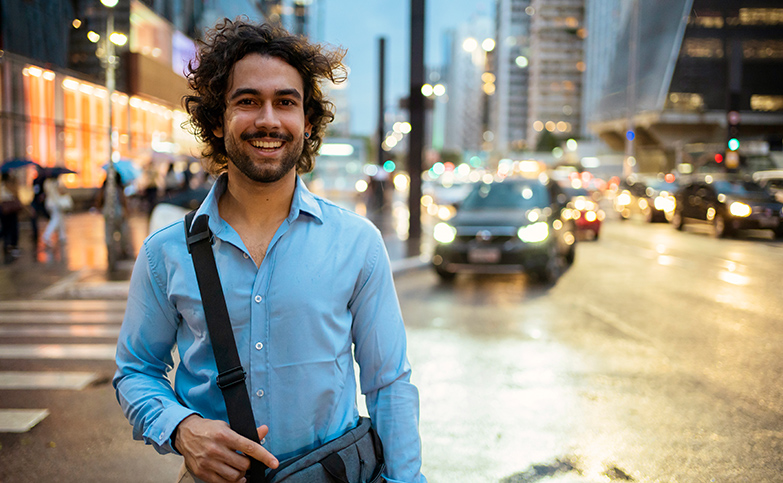 Live well? Choose it.
Klaviyo knows how important it is to be mentally strong and physically fit. That's why Klaviyo rewards you for improving your emotional, physical, and financial health.
$200 Klaviyo wellness reimbursement
Working on your total well-being? Get reimbursed for it! Klaviyos receive up to $200 a year to use for gym memberships, home exercise equipment, massages, nutritional advice, financial counseling, and more. Review the wellness reimbursement policy for complete details.
Adding it up
Here's a recap of how much Klaviyo will reimburse you for eligible expenses for each program within Forma. Any unused funds will be forfeited at the end of the applicable period noted below. Policies that detail eligible expenses, claim submission, and reimbursement details can all be found directly within the Forma platform.
$1,000/first 6 months of tenure
Excess Remote Utilities Cost (CA & IL only)
Determined upon calculation
*Don't fret! Books are still unlimited—if you go over the $200 monthly limit, we'll add more funds to your wallet! Email HR@klaviyo.com if you need additional funds added to your wallet.
If you pay out of pocket for an eligible expense, you must submit a reimbursement claim through the Forma portal.
Important notes:
Please make sure that your item name, purchase date, and purchase amount are visible on the receipt. If this information is not visible, your claim will be rejected. If available, please also have your name on the receipt.
For purchases made in apps such as Venmo and PayPal or online courses with recurring charges, please submit a screenshot or print screen of the charge and payment.
Don't forget!
You can use the Forma app to easily upload receipts and submit claims.
Accessing Forma
You can access Forma with the Okta tile on your dashboard. If you are missing the tile please email IT@klaviyo.com. If you're enrolling for the first time, please use your Klaviyo email address.
Receiving and spending funds
With your allowance, you can shop in Forma's online store where you'll enjoy up to 30% off from Forma vendor partners! You do not need to submit a request for reimbursement when you purchase products through the Forma store. These items are already approved under your program policy.
We recommend adding your personal credit card information to Forma's portal. If an item from the store exceeds your available Klaviyo-funded balance, it will be denied. You can pay the difference using your personal credit or debit card and still enjoy the discount.
How to add your personal card
Log on to Forma's portal through Okta. Under
Account Settings
, select
Payments
and navigate to
Link Card
. Enter your personal credit card information to supplement purchases that cost more than the amount you have in your account.
Note: If you do not add a personal card to your Forma account, purchases larger than your stipend amount will be rejected.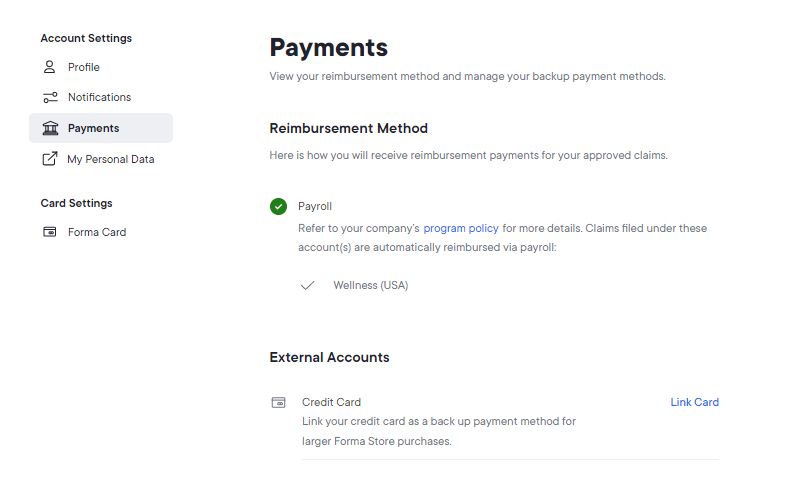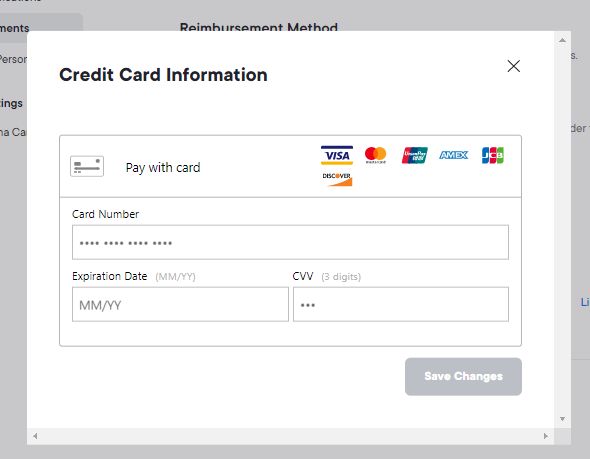 When can I expect my reimbursement?
Reimbursement requests will be reviewed by the Forma team within 2–3 business days. You can expect your reimbursement to be included in your paycheck the following month.
Where should I go with questions?