Benefits for a better you – Interns and Co-ops
We value the contributions of our interns and co-ops. That's why we offer some of our favorite perks and benefits to you during your internship or co-op. Here's an overview of what we provide.
Who is eligible?
Interns and co-ops must be actively employed by Klaviyo when they incur eligible expenses in the reimbursement programs.
Your health
Better health? Own it. Live your life to the fullest with resources that support your overall well-being.
Modern Health
Modern Health is a wellness platform that makes it simple for you to access personalized care for life's ups and downs—whether at work, home, or in your relationships. When you log in to Modern Health for the first time, you'll answer a few questions about your well-being* and then be thoughtfully guided to resources that align with your specific needs and preferences.
Watch this brief video about Modern Health to learn how to access care.
How can Modern Health benefit you?
Personalized support: Receive support in the areas that matter to you—whether that's stress and anxiety, burnout, work performance, relationships, challenging life events, finances, and more.
Mental resilience: Gain clarity on how to navigate challenges in your life, create healthy habits, build confidence, and improve your overall mental well-being.
Community: Find group support sessions designed to be safe spaces to listen, share, and learn with others.
What's included
Eight one-to-one sessions, during your internship or co-op, with a certified mental health professional or a financial well-being coach
Eight one-to-one sessions, during your internship or co-op, with a licensed clinical therapist in your country (with a guarantee of scheduling an appointment within 2 business days). These sessions are free and optional. They do not impact your access to other outside mental health care, including clinical therapy, that you may seek through your medical plan.
Unlimited group support sessions (Circles)
A library of guided meditations and self-paced digital courses
Personalized and specialized work-life support for you and your whole family, including (but not limited to) people leader services, therapy for minors, ADHD coaching, couples counseling, elder care, and caregiving
Ongoing well-being assessments to track your well-being over time
All interns and co-ops should already have the Modern Health app in their Okta dashboard upon starting. Once registered, you can download the mobile app or go to Modern Health to get started.
* This data will be processed under each country's relevant data protection regulation (such as HIPAA and GDPR, for example).
Your perks
More perks? Yes, please. Your total well-being is important to living your best life, but so are these added Klaviyo benefits.
Discover your perks
We have the perks to meet your needs and lifestyle.
Monthly stipend for remote workers
Work your way. Own it. For any days that you happen to find yourself working remotely, Klaviyo wants to make sure you have what you need to be successful.
You're eligible for a stipend of $65 per month, deposited directly into your paycheck. Use it to cover costs associated with working remotely, including cell phone, home internet, and utilities.
Klaviyo's book program
Always learning? Get reimbursed.
Our always-learning value extends beyond the typical workday. Whether you're relaxing with a novel, reading about technology, or learning more about social justice, you can be reimbursed for the books and audiobooks you buy. If you're better off for having read it or listened to it, we'll pay for it. This benefit perk will be reimbursed through Forma in 2023. Book reimbursements are taxable.
$200 wellness reimbursement
Working on your total well-being? Live it. And get reimbursed for it!
Klaviyo interns and co-ops receive up to $200 a year to use for gym memberships, home exercise equipment, massages, nutritional advice, financial counseling, and more. Curious to learn more? Review the wellness reimbursement policy for complete details.
Commuter benefits
Commute to work your way. Own it.
All hub-designated Klaviyo interns and co-ops are eligible for commuter benefits. Commuter benefits through WageWorks help hub-designated Klaviyo interns pay for the expenses associated with going back and forth to work. You can contribute pretax dollars to your commuter account to pay for commuting or parking expenses.
As of October 2023, Klaviyo will contribute up to $300 (the monthly IRS pre-tax maximum) into your preferred parking or transit account. You can also contribute post-tax dollars to your commuter account to pay for commuting or parking expenses on top of Klaviyo's contribution. Find more on the internal wiki page!
Claim your cash
Here's a recap of how much Klaviyo will reimburse you for eligible expenses for each program within Forma. Any unused funds will be forfeited at the end of your internship or co-op program. You'll have 90 days to submit claims for reimbursement for expenses incurred during your active employment with Klaviyo.
After you become a Klaviyo
Here's what you need to know about submitting claims, accessing Forma, and receiving and spending funds after you join Klaviyo!
If you pay out of pocket for an eligible expense, you must submit a reimbursement claim through the Forma portal.
Important notes:
Please make sure that your item name, purchase date, and purchase amount are visible on the receipt. If this information is not visible, your claim will be rejected. If available, please also have your name on the receipt.
For purchases made in apps such as Venmo and PayPal with recurring charges, please submit a screenshot or print screen of the charge and payment.
Don't forget!
You can use the Forma app to easily upload receipts and submit claims.
Accessing Forma
You can access Forma with the Okta tile on your dashboard. If you are missing the tile, please email IT@klaviyo.com. If you're enrolling for the first time, please use your Klaviyo email address.
Receiving and spending funds
With your allowance, you can shop in Forma's online store, where you'll enjoy up to 30% off from Forma vendor partners! You do not need to submit a request for reimbursement when you purchase products through the Forma store. These items are already approved under your program policy.
We recommend adding your personal credit card information to Forma's portal. If an item from the store exceeds your available Klaviyo-funded balance, it will be denied. You can pay the difference using your personal credit or debit card and still enjoy the discount.
How to add your personal card
Log on to Forma's portal through Okta. Under
Account Settings
, select
Payments
and navigate to
Link Card
. Enter your personal credit card information to supplement purchases that cost more than the amount you have in your account.
Note: If you do not add a personal card to your Forma account, purchases larger than your stipend amount will be rejected.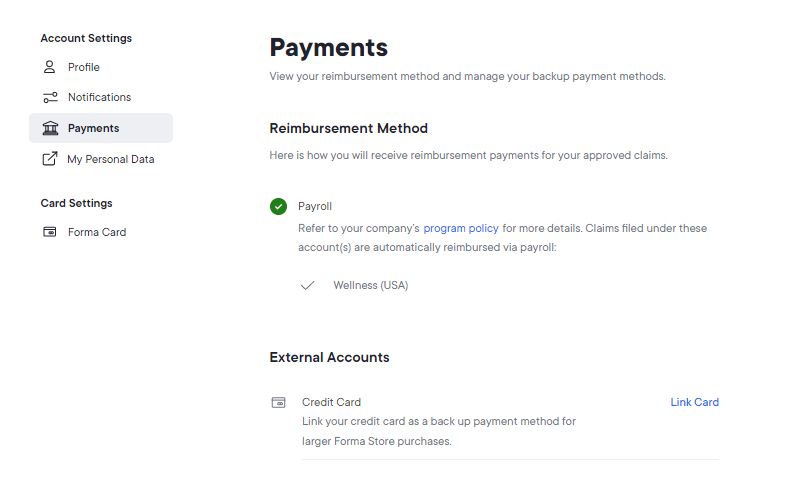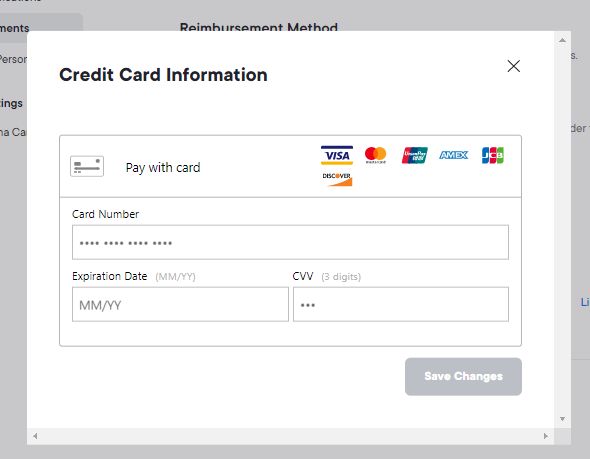 When can I expect my reimbursement?
Reimbursement requests will be reviewed by the Forma team within 2 to 3 business days. You can expect your reimbursement to be included in your paycheck the following month. If you have incurred expenses during your time at Klaviyo, you'll have 90 days after your last day to submit them to Forma by
contacting support@joinforma.com
.
Where should I go with questions?